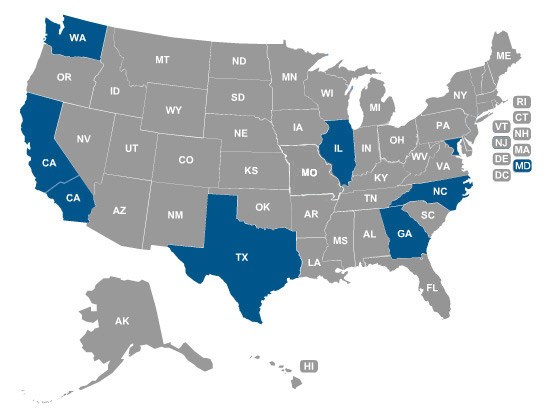 Seattle, Washington
Pacific Terminals LTD
Kelly Medina, 2nd point of contact Steven Medina (back up onl )
3480 West Marginal Way SW
Seattle, WA 98106
Phone: 206-933-3914, Fax: 206-923-2165
Fontana, CA
A-Prime
Armando or Rhoda
11010 BANANA AVE
Fontana, CA 92335
Phone: 951-279-5172, Fax: 951-279-2195
Temple City, California
Westrep Enterprises (Boards)
Mark Romey, James Greene, Gary Gillon
4930 Encinita Ave
Temple City, CA 91780
Phone: 626-292-3832, Fax: 626-292-3835
Fort Worth, Texas
Bluff Manufacturing, Inc (Yard Ramp Stocking Location)
Ashley Irwin
9201 South Freeway
Fort Worth, TX 76140
Phone: 817-293-3018, Fax: 817-293-7570
Atlanta, Georgia
Bonded Service Warehouse, Inc (Yard Ramp Stocking Location)
Jan Townes, Robert Lee & Tom. H. Ghegan
1805 Westgate Parkway
Atlanta, GA 30336
Phone: 404-349-1466, Fax: 404-349-1637
Nikki Henoweth - Warehouse Manager Cell # 404-538-1441 for emer use only
Maryland
Bowman Logistics (Yard Ramp Stocking Location)
Mary Mckinney, Jeff Huff
18238 Showalter Road
Hagerstown, MD 21742
Phone: 240-420-6735, Fax: 240-420-0446
New Jersey Area Distribution Center
55 Porete Ave
N. Arlington, NJ 07031
Charlotte, North Carolina
Stein Service & Supply
Madison, Steve
1301 Westinghouse Blvd Suite G
Charlotte, NC 28273
Phone: 888-587-9558, Fax: 704-583-1722
Please select a state above.
FAST Nationwide Delivery
Bluff Ramps products are available for fast delivery or pickup via seven strategically placed distribution facilities throughout the United States. We know time is money, so our goal is to have our products available within 48 hours and in many instances, a product can be delivered or picked up the next day (if order is placed by 3:00 PM). Our parent company, Bluff Manufacturing, is the only dock and warehouse ramp manufacturer that can truly make this claim.
Our distribution strategy is based on stocking our most popular steel yard ramps – including 16,000 and 20,000 capacities – in each warehouse to ensure fast delivery or pickup. Additional Bluff Ramps products available include ground-to-dock ramps, ground-to-truck ramps, mini ramps and portable docks.
Other products and custom-built orders are manufactured in our Fort Worth, Texas, facility and shipped directly to the customer. While our competitors may take up to six weeks to deliver a custom order, Bluff Manufacturing's streamlined operations and nationwide distribution centers allow us to quote delivery dates in terms of days.
Our commitment to the highest quality and outstanding customer service extends beyond the manufacturing process. It also means delivering the product on time, as promised. Once the delivery date is quoted, we will do everything in our power to meet, or beat, the deadline. Our success rate speaks for itself: During the past three years, our on-time delivery rate has been 99.5 percent. Although impressive and the industry leader, we continue to strive for 100 percent!