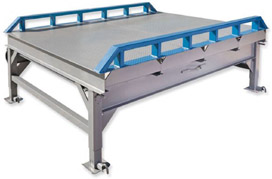 Place a Bluff Portable Dock in front of any dock or rail car door and you have an instant solution to your loading problem. Some applications will allow you to serve three or more loading/unloading positions at the same time. These are massively heavy-duty structures and while portable they are rock solid in use. Portable Dock affords 90 degree turnability for safe forklift maneuvering. Portable Dock is a fast, economical way to expand your dock area and increase freight handling capabilities without the expense of site or concrete work. If you are in a lease building they can leave when you do.
Portable Docks can easily be relocated to other areas of your yard where a free-standing loading dock may be needed. This means more trucks or railcars can be serviced while freeing up other critical dock doors. Optional adjustable, telescoping legs of 44″ and 55″ allow elevations to meet most dock height requirements. For remote areas, Portable Docks along with a Bluff Yardramp can serve as a satellite unloading area.
Features for Portable Docks
Solid Diamond Deck Steel Floor Plate
Maximum strength and maximum traction.
Structural Steel Curbs Set on Two Sides
Not a light tube set for appearance only.
Standard Legs
Legs are welded and gusseted in place to provide maximum stability at a fixed height.
Understructure
Made from all structural members, giving capacity and durability.
Options for Portable Docks
Adjustable Leg Sets
Use a single leg set (2 legs) or double set (all four legs) to raise and lower each end of the dock independently. When a single set is used the other end is the standard fixed height Bluff legs.